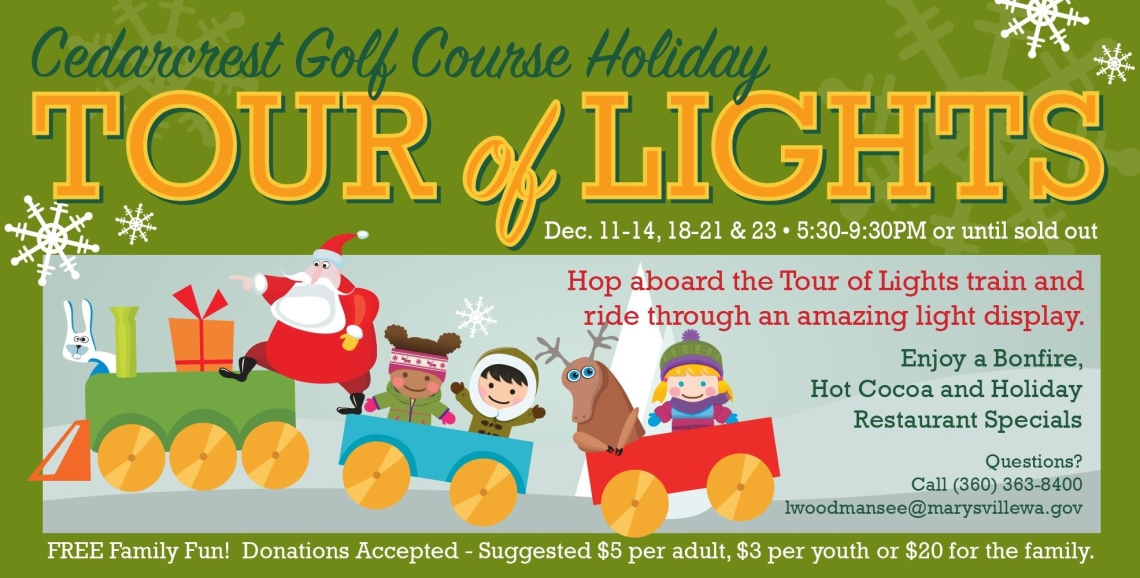 FREQUENTLY ASKED QUESTIONS
What time do the Trains run? 5:30pm-9:30pm, on the 9 Holiday Tour of Lights dates (11th,12th,13th,14th, 18th,19th,20th,21st & 23rd).
When do we give out Train tickets? The Pro Shop Staff will start giving out tickets at 4:00pm for the train ride that day.
What is the cost for Train Ride? The Train ride is Free. However, We do RECOMMEND DONATIONS. Suggested Donations of $5 per Adult, $3 per Youth, or $20 per Family.
How many people ride the train per night? A sell out to us is 500 tickets per night. Depends on number of trains working per night and also how many people we are getting per train. Our trains can carry 8-12 people per ride (size & weight restrictions). We have 4 trains working nightly unless we have a maintenance issue with one of them. Historically Wednesdays and Thursdays are the slower nights and we don't tend to sell out on these nights. Most Fridays and Saturdays ticket sales have stopped by 6:30-7pm as we have already sold our allotted amount for the night. Feel free to call the pro shop prior to coming in and see if we have sold out for that night. 360-363-8460.
Are we still doing smore's and hot cocoa? We are no longer doing smore's with graham crackers and chocolate. We will be giving out marshmallows to roast by the fire and hot cocoa...This will come with your ticket to get on the train. This is Free, but donations accepted.
Does the Holiday Tour of Lights ever get cancelled? We will only cancel due to snow, ice, heavy wind or heavy rain. If we cancel, the Cedarcrest Golf Course website as well as the Marysville website will update by 3:30pm or you can call the pro shop at 360-363-8460. We will also try and update our social media avenues.
Are the trains covered incase of rain? The trains are not covered, please feel free to bring your own umbrella or we have ones for our guests to use as well.
Is the waiting area to get on the train covered? Most of the loading area is covered by a tent.
What's an average wait time to get on a train? Generally if you show up before 5:30pm your wait time is less than 20-35minutes. After 5:30 pm you wait time can fluctuate between 45mins and 1.5hrs. All of these times are approximate and are based on weather and amount of tickets given out that night.
Can we book in advance? We do not take reservations in advance. First come, first served for tickets and waiting for trains.
Can we book reservations for dinner at Bleachers Grill before we get on the train? Call Bleachers to setup your reservation 360-659-3388.